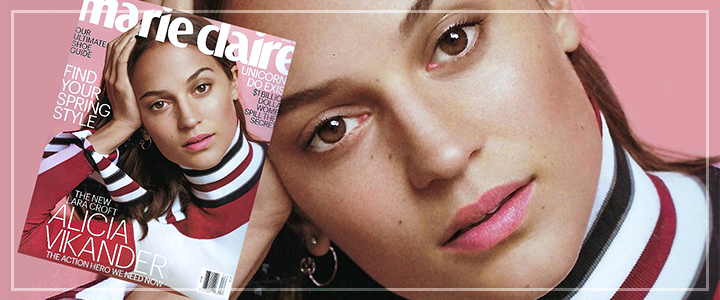 ( 03/15)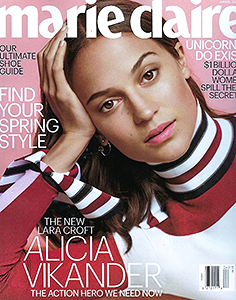 Alicia is gracing the April 2018 Cover of Marie Claire! We added the high quality scan of the cover that features a brand new photoshoot (yay!!) to our Gallery, we'll add digital scans as soon as possible in the meantime check out the cover! She looks wonderful. Love the pink background, pink lipstick and fabulous outfit, can't wait to see the rest of the photos! Take a look!

( 03/13)
Alicia Vikander has a mantra. "When things are hard," she begins, slowly, "I say, 'Yeah, but it's not tougher than ballet school.'" Alicia enrolled at the Royal Swedish Ballet School when she was 9 years old, and danced with companies until she was 19, which amounts to a childhood spent in permanent discipline.
"One thing you learn in a school like that, if it doesn't break you, is that no one does for you."
It's a rather worldly lesson to have internalized as a child, but as preliminary training for Hollywood, you'd hazard the lesson was invaluable. Today, the 29-year-old Oscar winner still has the physical mannerisms of a dancer: she sits, back straight on her chair, legs crossed, occasionally grasping her feet and rocking from side to side. Her first English-speaking role was only "six or seven years ago", and she speaks slowly and carefully, though it doesn't seem like the uncertainty of the non-native speaker, but instead a deep-rooted thoughtfulness. CONTINUE READING





Buy this Issue

( 03/07)
As we mentioned in our previous posts Alicia is gracing the April 2018 Cover of Elle UK. We added new photos from the photoshoot taken by Norman Jean Roy to the Gallery! She looks gorgeous, we just wish we had more photos in color and not all black & white, nevertheless she looks beautiful! We also added digital scans from the magazine! Check them all out (;






( 03/06)
Alicia is gracing the April 2018 Cover of Vogue China with her Tomb Raider co-star Daniel Wu! We added 2 high quality covers that feature a brand new gorgeous photoshoot to our Gallery, we'll add digital scans as soon as possible in the meantime check out the covers! She looks wonderful. Take a look!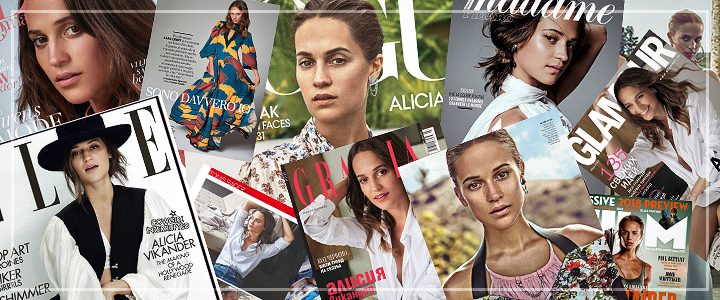 ( 03/04)
Hello there lovely Alicia fans! Today we added most of 2018 magazine scans featuring Alicia! So head to the photogallery if you want to read the latest interviews! We'll be adding the remaining magazine scans from this year and previous years soon!









Gallery Links:
Magazine Scans >
2018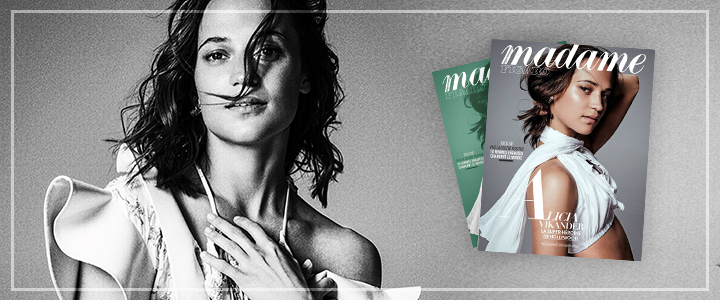 ( 03/01)
Alicia is gracing the March 2018 Cover of Madame Figaro! We added a few high quality photos from the photoshoot photographed by Damon Baker and the high quality magazine cover to our Gallery, we'll add digital scans as soon as possible in the meantime check out the photos! She looks wonderful. Take a look!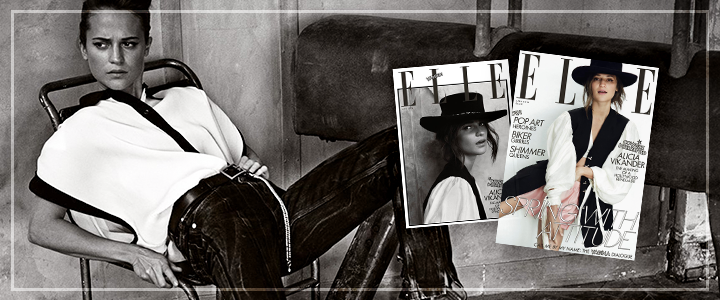 ( 03/01)
Alicia is featured on the April 2018 Cover of Elle UK. She was photographed by Norman Jean Roy. We added the first 2 photos and the magazine cover to our Gallery! As soon as more photos we'll be released we'll add them but in the meantime enjoy and read a few quotes from the interview:
I've been very fortunate that I haven't had any sexual harassment on set. But I've been in situations where people in power have put me on the spot, or made me feel stupid and young when I wasn't able to express myself publicly.

Once, an older female co-star actually said on my behalf, "That's not OK." I can now speak up and say that is not fine, and I've been given the fortunate position now of not being, in the same way, afraid of losing my job, which was deep down the reason you don't want to be trouble. You don't want to be difficult…
When I met my husband three and a half years ago, he had mentioned he'd been to Lisbon and loved it, and I knew friends who were moving out there. And that was a time when I was just starting to feel really at home in London.

For three months before filming, I started every morning with an hour's workout. Then there was a lot of eating going on; I had to have five meals a day,' she said, of the preparation she had to undergo. 'I wanted Lara to be strong. I'm very petite myself, and I wanted the audience to find the action sequences plausible – to believe that she could do it, that she could lift herself up with her own bodyweight. It's tough being a young girl at this time, you know? I'm now working in an industry which lives on creating an image, a fantasy and I feel like I need to show younger women that is what it is.

You shouldn't be too good, or do something different… In a way it's great to grow up with that, as it makes you very grounded, but also a bit scared of standing out and making a big leap away from the rest of the group.
The full interview appears in the April issue of ELLE UK, on sale 7 March.