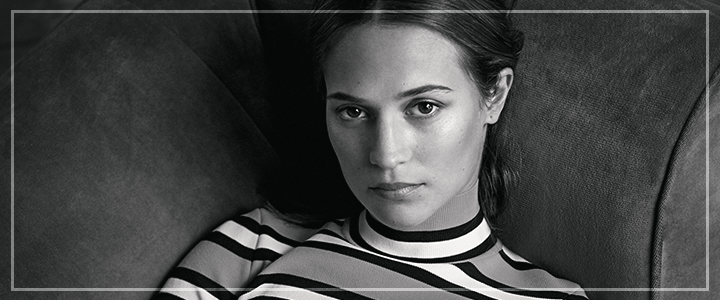 ( 03/16)
As mentioned in our yesterday post, Alicia is gracing the April 2018 Cover of Marie Claire! We added a few high quality photos from the photoshoot by Thomas Whiteside to our Gallery, we'll add digital scans as soon as possible in the meantime check out the photos! She looks beautiful but we were so excited to see them yesterday and now we're disappointed cause all of the photos are black & white and they wasted the beautiful retro outfits, Alicia's glowy skin tone, the cool make-up and the awesome textures. A lot of times when photographers go b/w it's because they're out of ideas or want to seem edgy (but end up looking uninspired) or when they simply didn't produce good photography so we don't get it! Hopefully they're colored in the spread. Here, a few highlights from her April cover interview, on newsstands March 27:
On conveying Lara Croft's strength in Tomb Raider:

We wanted to base most of the action in reality. She's a girl my size having to become a survivor and overcome a lot of obstacles, and I wanted it to be believable that she could do it. All the action scenes when I had to fight with a man bigger than me—we had to figure out how I could actually kick his ass. I wanted to show young girls that it's cool to be a girl who's really strong and that watching her, you feel like OK, she might be able to climb that wall. She might be able to lift her own weight.  Continue reading.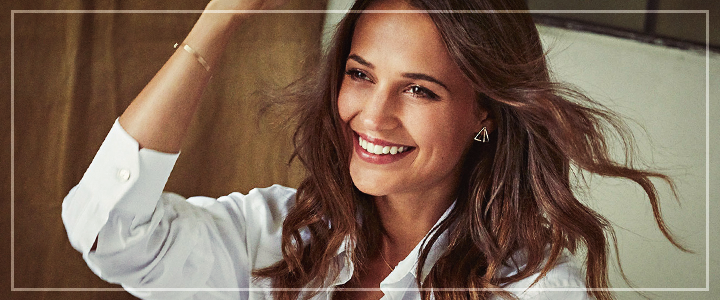 ( 03/09)
In the luxury apartment of a West End hotel, the Oscar-winning actor Alicia Vikander is not quite feeling herself. 'This makes me feel very small and a bit overwhelmed,' she says, nodding towards the spacious sitting room furnished with embroidered sofas and hand-painted armoires. 'This is really not who I am.'
Dressed in black leggings and an oversized navy cable-knit sweater, Vikander does look rather small. She opts to sit on a stiff dining chair, pulling it up close to the table. Her hair is pulled back into a ponytail, there is no make-up on her face and, at 29, she has the serious, youthful air of an international student.
People think of me as this art-house girl. But when I was a little girl in Sweden the films I loved were all those amazing action movies – Indiana Jones and The Mummy. The idea that I was being asked to do this movie…' She pauses and shakes her head. 'I am an actress from a tiny country where even just to think you can be in a movie seems like a dream, and then to be in a movie that you dreamt about as a kid just seemed completely surreal. So if I was going to do this, I was going to do it the very, very best I could. I was going to give everything. Everyone remembers Angelina Jolie [who played the character in the noughties], but I wanted to make Lara Croft my own. CONTINUE READING